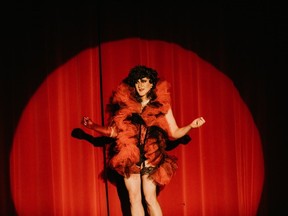 There's a new cult in Stirling – and the folks at the village's theatre are thrilled.
The cult following of the Rocky Horror Show, and its film version, the Rocky Horror Picture Show, is helping to fill seats during the Stirling Festival Theatre's stage production of the classic show. Tickets remain available."We knew it would have a following but it's been delightful," said the theatre's house manager and marketing coordinator, Jane McClelland.She said both die-hard fans and people totally unfamiliar with the musical have been taking in shows since the run opened July 7. Many are coming in costume – and that's encouraged."Crowds are jumping up to their feet. We've had standing ovations every night."

The Rocky Horror Show began as a stage musical by Richard O'Brien. The film adaptation featuring Tim Curry, Meat Loaf and Susan Sarandon popularized it and its music, most notably the song Time Warp.

"Ken MacDougall, our artistic director, has been trying to get the rights for three years," McClelland said. MacDougall is also in the cast.

Now it's here, along with the rituals that have grown to accompany performances.

"We're allowing the fun props."
From heckling the (recorded) narrator to throwing cards, audience participation is a big part of the experience. When characters Brad and Janet get stuck in the rain, prompting Janet to cover her head with a newspaper, audiences do the same – and use water guns to simulate the rain.
McClelland said that's allowed – but spraying water at the performers is prohibited in order to protect the performers' safety and microphones.
Two other rules, ones you won't hear at other plays, also apply: "No toast or throwing rice."
J.P. Baldwin, an experienced pantomime performer from Omemee, Ont., stars as Dr. Frank N. Furter. He performed the role many times at Niagara Falls' Oh Canada Eh? dinner theatre.
"It's in his bones," McClelland said.
"Musically it's so gorgeous and we have a live rock band of five musicians in the pit."
James King plays Riff Raff, a Transylvanian. His voice "will give you shivers," she said.
Other performers include Dan Curtis Thompson, Sal Figliomeni, Lia Luz, and Ryan Whittal.
The show continues until July 24.
For tickets and details, visit stirlingfestivaltheatre.com or call 613-395-2100.